Our SERVICES include, but are not limited to: site prep, excavations, footings, concrete pumping , conventional slabs, waffle pod slabs, commercial slabs, suspended slabs, driveways, patios, footpaths, garages, pool surrounds, epoxy resin flooring, decorative concrete finishes and all exposed aggregate surfaces.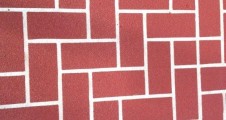 COLOURED CONCRETE
By adding a high quality pigment, blended from high strength iron oxides mixed into the concrete prior to pouring. This, therefore, gives a depth of colour throughout the entire slab and in turn allowing for long term colour quality.  Finishes include cove, steel trowel or broom finish. It is highly recommended to seal surfaces with an industrial strength sealant.
Click HERE to download the colour guide.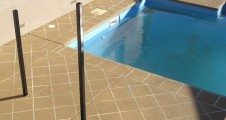 POOL SURROUNDS – When landscaping around a pool, there are many decisions to be made and many factors to consider.  With this in mind, we have specifically designed formwork for concrete & fiberglass pools so there is no need for a coping tile or bull nose paver. This provides you with the option of same colour or texture flowing to the edge of the pool.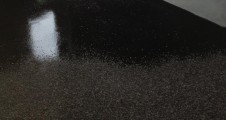 EPOXY RESIN FLOORING
Expoxy Resin Flooring comes in large range of colours & fleck sizes. This product is amazing & can cover hairline cracks in your existing concrete surfaces. It's very durable and hard wearing. Because of the unlimited colour palate, the style can be changed and designed to suit any décor.
Click HERE to download the Epoxy Resin Floor brochure.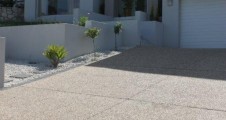 EXPOSED AGGREGATE
We consider ourselves one of the market leaders in exposed aggregate finishes. Aggregates used in Exposed Aggregate Concrete are natural products and can vary in colour, shape and size. It is long lasting, non-slip and has an appealing architectural appearance.  It is often used in driveways, patios and other exterior surfaces.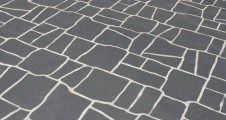 STENCIL
Stencil Pattern Concrete allows you to create eye catching special designs. Choose from a wide selection of contemporary colours and patterns or customise your own stencil pattern through us to create the look you want. Borders & features can complement or complete any design.
Click HERE to download the Stencil Pattern brochure.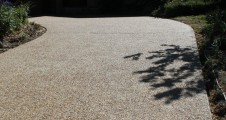 SEALING
Applying two coats of sealer is the finishing touch we apply to all our decorative concrete. There are many benefits to applying sealer, including easy removal of oil spills or tyre mark, added protection against UV and weather resistant and finally helping to create longevity of the concrete appearance.